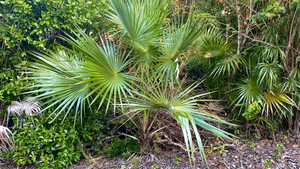 Hiking Trails in Vieques: East Side top 3
The thought of going for a long walk may not be a good idea for some people on vacation, however, the hiking trails in Vieques are easy to access, the paths have been cleared, and the ending to these hiking trails are wonderful scenic views. It's a happy ending to a "long walk".
Easy to get to hiking trails located in the Fish and Wildlife Refuge of the East
4JR4+QXF, State Rd 997 km 3.2, Vieques, 00765
Old Lighthouse, Faro Berdiales 
As you enter the Fish and Wildlife Refuge gate, you will notice that there are two dirt roads, one on the right and the other on the left. In this case, you will take the right dirt road as soon as you enter the gate. Depending on how long you want to go for this walk is where you should start, for example, you will notice that there are signs with the distance it takes to get to the old lighthouse. Faro Berdiales was built by the Spaniards in the 1800's and is no longer a working lighthouse, but it is an incredible place where you can see the waves splashing, admire the view of lighthouse structure and be closer to nature.
The observatory point that overlooks three bays
As you enter the Fish and Wildlife gate, in this case, take the left dirt road. If you don't want to hike up to the platform, you can drive there, but hiking is a lot more rewarding and a great way to connect with nature. We do this hike often and it takes us about an hour to get back to our vehicle. Bahia Tapon, Puerto Ferro, and Puerto Mosquito (Mosquito Bay) are the three bays that can be appreciated from the top. You read that correctly, you can even see the bioluminescent bay from this observatory point. Now, don't get us wrong, you won't see the glow from up here, but it is nice to be able to see how this bio bay looks during the day from the mountain. When you take your Bioluminescent Bay Tour, you will learn why this is the brightest bay in the world and from this platform, you will see and understand what the guide explained during the tour.  Also, if you take this hiking trail during this time, January through February, you can have a crab apple tasting fun with your loved ones as you go by since there are so many crab apple trees. Keep in mind that some of them are sour and others are sweet, not all crab apples from every tree taste the same, so it'll be fun to be the judge of which was the best crab apple tree.
Cerro Playuela 
Keep driving, as if you were going toward Playa Caracas, and follow the signs that say Cerro Playuela. Before getting to Caracas, there is a road on the right, where you will notice a sign with the beaches and hiking trails you would encounter when you take that left. There is Tres Palmitas Bay, Playuela, Cerro Playuela, which is where this trail is. This is another favorite of ours, which you don't want to go through this hiking trail if there is no wind, otherwise the mosquitoes will have a feast with you. If it's pretty breezy, go for it, you will love it! During the trail, you will notice big balls of termite nests, bird nests, you will hear different types of bird sounds, you are likely to even see hermit crabs on the path. Something nice about this hiking trail is that you will end up at a private beach which not many know of, or even know how to get there. The beach is called Playa Corcho. 
Wearing closed-toed shoes or sneakers while taking these trails is always more comfortable, however, you can go through these trails wearing your sandals. If you wear mosquito repellent, please make sure that it is a natural repellent that says NO DEET to help protect the wildlife in Vieques. You can make these hikes in one day or compliment your day after taking a Boat Charter, Snorkeling Tour, Bio Bay Tour, or Fishing Charter. These hiking trails are a perfect way to fill your day and your soul by connecting with nature.